The Fayetteville Flyers Track Club is looking for young women and men interested in competing in track and field. The Flyers compete on a State level, traveling from city to city participating in the United States track and field meets.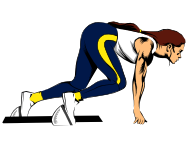 Indoor Practice starts soon
Age group 13-18 practice begins, November 1, 2016
Age group 7-12 practice begins, December 6, 2016
A copy of your child's birth certificate must be provided
Location
Westover High School Weight Room
Dates and Time
Tuesdays & Thursdays
6:30–8:15 p.m.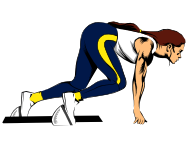 Outdoor Practice Begins, April 3, 2017
Reid Ross Classical School
Monday, Wednesday & Thursday
Ages 7 – 18
6:3-8:15 p.m.
Meet Schedule
| | | |
| --- | --- | --- |
| Date | Meet | Location |
| April 29,2017 | Development Meet (Fayetteville Flyers) |   Fayetteville, NC |
| May 6, 2017 | Developmental Meet (Triangle Champion) |   Durham, NC |
| May 13, 2017 | Developmental Meet (Fayetteville Flyers) |   Fayetteville, NC |
| May 27, 2017 | Developmental Meet (Durham Striders) |   Durham, NC |
| June 23-25, 2017 | State Championship (NC A&T) |   Greensboro, NC |
| July 6-9, 2017 | Region 3 Meet (NC A&T) |   Greensboro, NC |
| July 24-30,  2017 | National Junior Olympic Championship |  University of Kansas, KA |
| | |
| --- | --- |
| Qualification Criteria | |
| State Championship | Top 8 qualifiers advance to Regionals |
| Region III | Top 5 qualifiers advance to Nationals |